The Improv is proud to announce that touring stand-up comedian ROD MAN is available for interviews and is performing live at our club! Check out his website at www.RodmanComedy.com
Schedule your FRIDAY  |  LIVE IN STUDIO  |  interview!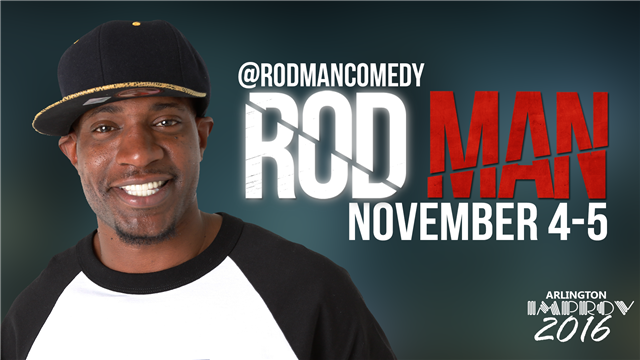 Rod Man has become an award-winning, quintessential entertainer. He won the last season of" NBC's Last Comic Standing" and has made many other television appearances, including"The Bad Boys of Comedy" for HBO, Martin Lawrence's "First Amendment" for Starz,Nick Cannon's "Wild 'N Out" for MTV, "One Mic Stand" for BET, "The Funny Spot" for TV One, and "The World Stands Up" for BBC America. He even co-hosted a morning drive-time show in Los Angeles on Stevie Wonder-owned KJLH Radio 102.3 FM.
Rod Man is also an actor and writer, known for his roles in Funny People (2009) with Adam Sandler and Seth Rogen, The Big Black Comedy Show, Vol. 2(2005), and MORE!
The world is catching on to what true Rod Man fans already know — he's down-to-earth, crazy-funny, and truly a special talent. He currently resides in Los Angeles, California
Click on one of the links below to see some of our YouTube Favorites!

https://youtu.be/oonc593mI3M – Rodman Reel
https://youtu.be/2fEf4z9-IZg – Rodman Interview
https://youtu.be/0ieLEnXEug4 – Rodman Deals With Cash
Showtimes:
Fri 7:00PM & 9:30PM | Sat 7:00PM & 9:30PM
---
The Improv continues to maintain its position as America's Original Comedy Showcase.
The World Famous Improv Comedy Showcase has been the career launching pad for dozens of the familiar faces of television and film. We are committed to delivering quality comedy entertainment, and is devoted to keeping America laughing.